Introduction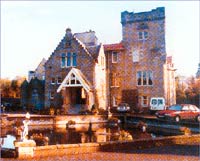 Edinbarnet House, once the ancestral home of the Mackenzie family, was designed by Sir John J Burnett, the celebrated Scottish architect. The house has been completely renovated, extended and developed as a first class nursing home for the elderly. The Home is set in nine acres of beautiful landscaped gardens.
The drive to the house is shaded by stately trees and opens up to feature a large lawn surrounded by shrubs and mature trees. Formal gardens adorn the patio area where residents can enjoy the setting in a sheltered area. The gardens contain a vast variety of flowering shrubs and an ornamental fish pond graces the entrance to the house. The grounds are home to a variety of wild life and residents enjoy spotting deer, foxes, pheasants, etc.
Edinbarnet House is approached from Cochno Road, Hardgate. It is situated within easy reach of Bearsden, Clydebank, Dumbarton and all parts of Glasgow. Transport for visitors can be arranged from local pick-up points, or from home for visitors who may be unable to manage alone.
Edinbarnet House can accommodate sixty residents in elegant and comfortable surroundings. The bedrooms are bright, tastefully decorated and furnished to offer comfort and safety. There are two separate dining rooms and the modern kitchen serves good home cooking with choice at every meal. Breakfast in bed is available as required and all dietary or personal preferences are met.